About The Partner of the year award: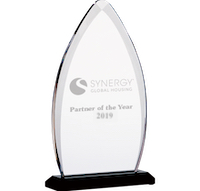 PCH was presented this award for being partner-centric and consistently going above and beyond in service of Synergy's global clients.The executive leadership team at Synergy, along with its client-facing counselor team, identified PCH as one of the top suppliers in both the domestic and international markets. Winners were selected based on their partner-centric practices, reputation for going above and beyond for clients, consistently providing a personalized guest experience, dependability for responsiveness and providing 24-7 support, offering transparent business processes, and flexibility in serving both major and remote markets.
Read More On Our Blog
About Preferred Corporate Housing:
Preferred Corporate Housing has been providing furnished temporary housing services across North America for more than 25 years. With service to more than 75,000 locations, PCH has become a go-to resource for more than 9,000 local, national and global clients including 413 companies on the 2019 Fortune 500 list.