About Houston's "best places to work" list :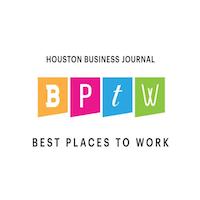 This marks the 9th consecutive year for Preferred Corporate Housing to be included on this prestigious list of companies!
Houston Business Journal has found PCH among 105 local companies that tout work-life balance, unlimited PTO and other perks that have their employees deeming them one of the Best Places to Work. All employees were given the opportunity to take a confidential survey online. PCH's Employees evaluated their companies in areas such as goals and leadership, communication and support, advancement opportunity and skill development, recognition and compensation, tolerance and flexibility, and embracing innovation and ideas.
Read More On BizJournal
Preferred Corporate Housing is a leading employer in Houston
Preferred Corporate Housing has established itself as a leader in providing furnished temporary housing services across North America for over 25 years. With an extensive network of accommodations in more than 75,000 locations, Preferred Corporate Housing has become a trusted resource for over 9,000 local, national, and global clients, including 413 companies listed on the 2019 Fortune 500.
What sets Preferred Corporate Housing apart goes beyond their exceptional services. They also prioritize creating an exceptional work environment, making them one of the best places to work in Houston. Here are some key reasons why:
Employee-Centric Culture
Preferred Corporate Housing values its employees and fosters a culture that prioritizes their well-being, growth, and job satisfaction. By creating an employee-centric environment, they promote a sense of belonging, engagement, and overall happiness among their workforce.
Opportunities for Professional Development
Preferred Corporate Housing recognizes the importance of continuous learning and provides opportunities for professional development. They offer training programs, workshops, and mentoring to support employees in their career growth and skill enhancement.
Emphasis on Work-Life Balance
Work-life balance is a priority at Preferred Corporate Housing. They understand that employees who can maintain a healthy balance between work and personal life are more productive and satisfied. Through flexible work arrangements and benefits, they support their employees in achieving this balance.
Collaboration and Teamwork
Preferred Corporate Housing promotes a collaborative and supportive work environment. They encourage teamwork and foster strong relationships among their employees. This collaborative spirit enhances productivity, innovation, and a sense of camaraderie among the team.
Commitment to Employee Well-being
Preferred Corporate Housing values the well-being of its employees. They offer comprehensive benefits packages, including health insurance, retirement plans, and wellness programs. Additionally, they organize team-building activities, employee recognition events, and initiatives to promote a positive and healthy work environment.
Preferred Corporate Housing's commitment to employee satisfaction, professional growth, work-life balance, collaboration, and overall well-being makes it one of the best places to work in Houston. They have built a reputation not only for their outstanding services but also for being an employer of choice in the corporate housing industry.
With a strong focus on employee engagement and support, Preferred Corporate Housing continues to attract and retain top talent. Working for Preferred Corporate Housing means being part of a team that values its employees' contributions, invests in their success, and provides a fulfilling and rewarding career experience.
About Preferred Corporate Housing:
Preferred Corporate Housing has been providing furnished temporary housing services across North America for more than 25 years. With service to more than 75,000 locations, PCH has become a go-to resource for more than 9,000 local, national and global clients including 413 companies on the 2019 Fortune 500 list.