About The Expatriate Management EMMA Award :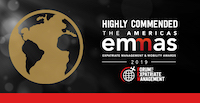 Highly Commended in "Corporate Housing Provider of the Year" Category as the Corporate Housing Provider, large or small, that has demonstrated best in class corporate housing support for their clients and their internal assignee population in the last year.
Honored Finalist in "Best Employee Benefits and Family Support Program"as an organization which provides best-in-class specialized support to relocating employees and their families. This includes cultural training, employment counseling, language training, social networking and other solutions. PCH was recognized as an outstanding example of how Service providers should demonstrate their dedicated support to the individual client, assignee and/or their families, while holistically helping families settle into their new home location.
Read More On EMMA's Website
Being an honored finalist in the "Best Employee Benefits and Family Support Program" category is a monumental achievement for our company and our staff. This recognition attests to our dedication in creating a nurturing and supportive environment for our employees and their families. For the company, this accomplishment not only enhances our reputation but also solidifies our position as an employer of choice in the corporate housing industry. This is crucial in attracting top talent and fostering loyalty among current employees, which ultimately drives our success and growth. For our staff, this distinction is an affirmation of the value that the company places on their well-being and that of their families. It fosters a sense of pride and belonging, knowing that they are part of an organization that is committed to providing the best benefits and support. This, in turn, positively impacts morale, productivity, and employee satisfaction. As an honored finalist, we are encouraged to continue our endeavors in offering exceptional employee benefits and family support, knowing that our efforts have a meaningful impact on our company and the people who make it great.
About Preferred Corporate Housing:
Preferred Corporate Housing has been providing furnished temporary housing services across North America for more than 25 years. With service to more than 75,000 locations, PCH has become a go-to resource for more than 9,000 local, national and global clients including 413 companies on the 2019 Fortune 500 list.