Preferred Corporate Housing (PCH) finds and secures temporary housing for its corporate clients, military and government personnel, and displaced individuals who are requesting temporary accommodations. Having provided temporary housing since 1996, PCH has earned a reputation as a leader in the corporate housing industry, and is one of the first, true national providers of furnished apartments in the country.

Preferred Corporate Housing has created a proprietary software solution that allows it to provide furnished quotes at over 15,000 apartment communities, in over 75,000 cities in all 50 states nationwide. PCH has also created an industry network of over 3,000 other corporate housing providers in which PCH provides fully furnished "wholesale" units.

Hurricane Katrina

Before Hurricane Katrina made landfall on August 29, 2005, Preferred Corporate Housing had already mobilized its staff and prepared a very detailed housing analysis for our current and future clients' needs. We established a "Ready Room", where we could centrally track the current regional housing availability as well as collect and analyze available housing data along the Gulf Coast. We compiled a database of housing options for our clients as housing became available. As housing evaporated, we expanded the search radius and incorporated more cities, moving away from the devastated region.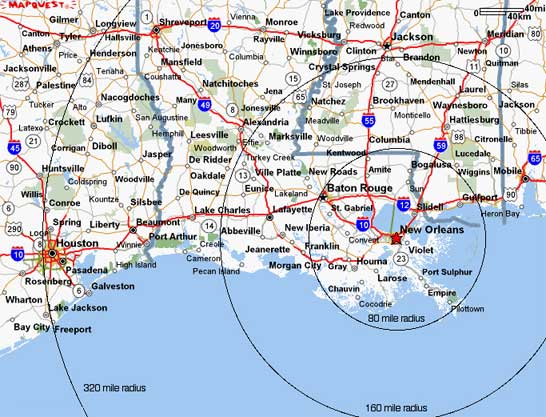 As we learned of the levy breach in New Orleans, we prepared housing in Baton Rouge, LA, Gulfport, MS and Mobile, AL. We made immediate adjustments to our inventory, compiled quotes for our clients, and updated our "Ready Room". The "Ready Room" was our command center for regional housing availability, and every employee of PCH relied upon its current data to offer more housing options to our clients. PCH was a clearinghouse for local apartment communities availability during this tragedy. Our repeat clients quickly found that Preferred Corporate Housing had created a virtual market for corporate housing availability for the region. From small business to Fortune 500 companies, other corporate housing companies, and referral partners such as American Express Travel soon discovered that PCH had the most comprehensive information compiled on temporary housing availability in the region. As tens of thousands frantically searched for housing, PCH was at the center of the available housing inventory in the region and we were able to assist our clientele with their housing requests. One such Fortune 500 client was Dominion Exploration Inc.

Dominion Exploration and Production, New Orleans, Louisiana

Dominion Exploration and Production is one of the nation's largest providers of electricity, natural gas and related services to customers in the energy-intensive Midwest, Mid-Atlantic and Northeast regions of the U.S. which comprises a market area of 50 million homes and businesses in nine states. Dominion Exploration's Louisiana office was located directly across from the Superdome in New Orleans. The Dominion Tower, which housed their IT department and other key departments of their company, was hit by the hurricane, and their employees were forced to evacuate. After the hurricane, the company had a very difficult time finding housing for the families of their New Orleans office. They called several other national housing providers who told them they could not help them find housing. Dominion called American Express Travel and they had Preferred Corporate Housing in their network of available national providers. Dominion contacted PCH and alerted our staff of their desperate need to find temporary housing for 325-350 families who had to be relocated. After a many after hours consultations, it was decided that Houston, TX was the best place to relocate the displaced families.

"PCH responded to our post Katrina call for assistance with speed and
solutions. Within days, our employees began moving into their furnished
corporate apartments in Houston. Considering the physical and emotional
dynamics surrounding the situation, their commitment, flexibility and
entrepreneurial spirit made the impossible happen."

Donna Kelliher
Dominion Exploration & Production

UPDATE: Donna Kelliher was named 2007 BTN Travel Manager of the year.

Mobilization

Once Houston, TX was decided upon as the destination for Dominion's employees, families and pets, Preferred Corporate Housing mobilized their logistics team to locate and secure enough available and suitable housing to handle 325 families. PCH then acquired leases at 21 apartment communities and several single family houses to accommodate Dominion's families. In an almost impossible time frame, Preferred Corporate Housing went to work with the logistics of setting up so many furnished apartments in such a short period of time.

Logistical Challenges

Within hours, Preferred Corporate Housing began to meet with different properties across Houston and surrounding areas to locate the best housing solution for Dominion. After determining the best communities based on Dominion's requirements, PCH secured 325 signed leases at 21 different apartment communities as well as single family homes throughout Houston, Spring, Richmond, The Woodlands, and Katy, TX. Another logistical concern was to deliver deposits, sign and secure the leases and pickup keys at apartment communities located in 5 different cities. PCH dispatched a team of contract specialists who spent the next two days driving hundreds of miles to negotiate and secure lease agreements and ensure PCH met Dominions requested move in date.

PCH assessed the housewares challenges with such a large move and realized that more than 2,000 sets of sheets, 7,800 towels and over 30,000 other household items for the kitchen, bedrooms and bathrooms needed to be acquired, assembled and distributed. In preparation for the next group move, PCH had 50 sets of housewares assembled and ready to be delivered in its Houston warehouse and they were dispatched in the first wave of Dominion apartments. After exhausting all local houseware suppliers and retailers, PCH searched our nationwide suppliers database for the remaining housewares, and eventually located multiple companies who could deliver the items needed to complete the remaining houseware packages. As the items arrived, PCH employees stayed at the receiving area 24 hours a day, in order to coordinate, receive and distribute houseware items to all 325 families. PCH then worked with multiple utility companies and leveraged or national account status to expedite connections for electric, phone, cable, water and gas services.

When PCH looked to rent furniture in Houston from their nationally contracted furniture providers, we were told that most of the rental furniture in the region had already been leased. We found out later that the federal government was a huge factor in the unavailability of furniture in the region. PCH decided that furniture had to be purchased and coordinated the purchase of 2.1 million dollars of furniture for its Dominion apartments from one of the only furniture providers in the area that could guarantee delivery and setup of 325 apartments of furniture in such a short period of time. Working 24 hours a day with multiple crews, Gallery Furniture owner, Jim McInvale and staff directed by Walt Dunnigan, delivered on its promises.

Safe at Home

Once the Dominion employees and their families settled into their new temporary apartments that some would call home for the next 6 months or longer, PCH realized their accomplishment. The families that found a way to get from New Orleans to Houston will little or nothing found that they had warm, dry apartments waiting for them. They had a place to shower, a fully stocked kitchen to cook a warm meal, cable television and DVD players and their own bed. Their children started school immediately, they went back to New Orleans on the weekends to gather belongings, they planned their next move, they checked on relatives and co-workers, and most importantly, they were able to go back to work on Monday. Their employer, Dominion Exploration, together with Preferred Corporate Housing, helped get their lives back together and supported them when almost everything else in life was lost.

Lessons Learned

Dominion had a successful Disaster Relief Plan. By teaming with Preferred Corporate Housing, Dominion's housing component was able to evolve with changing decisions that were made as a result of the disaster. In reviewing other temporary housing options that companies chose to house their employees, we found that old cruise ships were utilized in Mobile, Alabama and Galveston, Texas. Some companies used vacant hotels, slated for demolition, to house their employees. Some companies secured lodging through temporary trailers and hotels which eventually forced them to leave due to prior reservations. Many employees lost their homes and found that trying to house their families and pets in hotels or cruise ships were not viable options. Many employees found that communal living was not an ideal solution considering they were now working and living next doors to other employees. Families were forced to live in multiple hotel rooms due to the size of their family and occupancy restrictions. This broke up their family unit for months. The optimal choice to house displaced employees over the long term is apartments. Apartment living allows the employee to have an interim home, a place to set up base while they begin to rebuild their lives, a centralized family experience and the closest thing to home that exists in a temporary environment. You will never know if your disaster relief plan works until it is tested, at which time it maybe too late. Preferred Corporate Housing recommends, as part of your disaster planning, that you include a non-hotel temporary housing component into your overall Disaster Relief Plan. Hotel and fixed unit dwellings can fill up or they could be destroyed in the disaster area. As housing evaporates, you must expand your search radius to find available housing. Housing is obtained on a first come first served basis.

Plan Ahead

As a result of the Hurricane Season of 2005, Preferred Corporate Housing created a Preferred Placement Program which is available to all companies who register with Preferred Corporate Housing before a disaster strikes. This program allows registered companies to have "first shot" at available housing after a disaster. As housing is located, it is soon leased. When a disaster strikes, housing, like other commodities is affected by the laws of supply and demand. The Preferred Placement Program at Preferred Corporate Housing allows companies access to our proprietary technology which gives them priority access to available housing for their employees.

Related Articles
Dominion E&P relocates scattered New Orleans employees to Houston
Celebration Marks Dominion's Return to New Orleans; Gulf Production Up
BTN Names Dominion's Kelliher 2007 Travel Manager Of The Year
Disaster Relief Tips